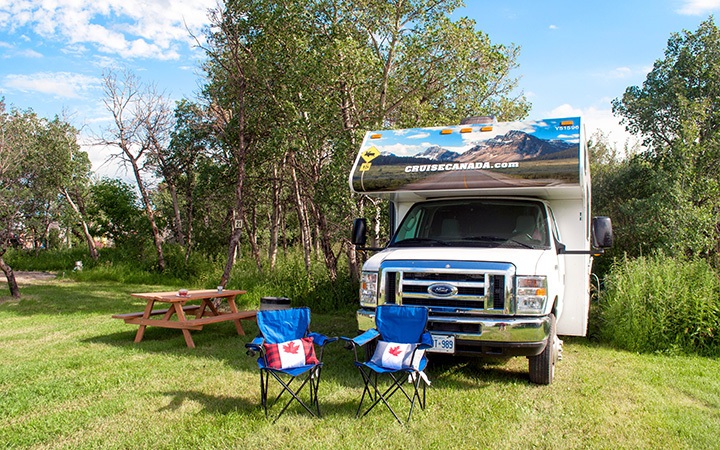 Two sisters, two weeks, 4500km, four provinces and three times zones – our leg of the #ExploreCanada road trip was epic in more ways than one. Especially considering neither or us had ever been in an RV (motorhome) before. How would this self-confessed camping-phobe cope with life on the road? Setting off from Calgary en route to Toronto felt a bit like being thrown in at the deep end. But it turns out RVing is a world away from camping, and Canada's the perfect place to try it out. You get the benefits of camping – the beautiful landscapes, the nights round the campfire, the feeling of being back to nature – but without the actual tent bit. But RVing was a new world with its special terminology (pull throughs, shore lines, grey water?). So I thought I'd put together a post for first-time RVers like me, or people who want to find out more about touring Canada by motorhome, where I ask all the questions so you don't have to!
Read more: Calgary to Toronto: 10 Unforgettable Road Trip Moments
Do you have to rough it?
I'm more budget-luxury than five-star, but there are a few things that are a must wherever I'm staying. Comfortable bed, decent toilets, hot showers, space to unpack and somewhere to keep the wine cold. But those nightmares of nights freezing and mornings sweltering at 5am in a tent quickly faded. RV life is a lot more like a mini mobile apartment. But it was surprising how much was packed into a small space. Our RV was Cruise Canada's 'Standard' model, which is 25′ long with two double beds, a toilet, shower and kitchen with gas cooker, fridge-freezer and sink. The kitchen's well equipped so you don't need to rely on burnt sausages cooked on the campfire; we whipped up steaks, risottos and stir fries onboard.
It's a good tip to get a bigger RV than you need. Ours was listed as sleeping five but was perfect for two or three people. Any more than that and you'd be tripping over each other. Though you probably want to make sure you go with someone you get on with. You're going to be in close confines and RVing requires lots of teamwork so there's not much room for personal space. Luckily my sister and I have spent many family holidays to France in the back of a 1970s VW camper van so we've got plenty of experience.
It's also a digital detox away from TVs, computers and phones. Well unless you're a blogger. Fellow internet addicts can get their fix with a portable wifi device that works off the phone signal. But in larger parks like Algonquin and Lake Superior the signal doesn't stretch into the park so you'll have to have an enforced technology sabbatical. Which leaves more time to spend outside. The evening campfire was one of my favourite trip rituals. Getting the fire going, searching out the perfect marshmallow toasting stick, talking about what we'd seen and where we were off to next. And if it rained, like one night in Killarney Provincial Park, we stayed snug inside, watching Les Mis on my laptop and toasting marshmallows on the hob.
Isn't RVing for retirees?
Canada and the US have a real RV culture. People retire, sell their houses, buy a big RV and drive south for winter and north for summer, travelling for as long as they can. So I was expecting that as two women in our 30s we'd be a bit of an unusual sight on the campsites. But in general the demographic was a lot more varied than I imagined. There were couples, families and friends, with international travellers as well as plenty of Canadians exploring their own country. Even the long-term RVers were a more mixed group than I expected. As well as retirees we met families who were travelling with their kids before they started school, as well as people who work remotely so don't need to have a full-time home base.
The long-termers are easy to spot though – they're the ones with doormats and potted plants out front and an impressive array of collapsible gadgets. They're also the ones who can help if you don't know how something works or if you need a hand. When we arrived into Lake Superior Provincial Park and found we couldn't park close enough to the electricity hookup to plug in, our neighbours came over with an extension lead we could borrow. One of the nicest things about RVing is that it's so much more sociable than being in a hotel. Everyone spends their time outside so it's easy to get chatting. We toasted Canada Day with a glass of wine around the campfire with our neighbour in Regina Beach and were introduced to the joys of the 'hobo pie' (a kind of toasted jam sandwich) by the lady next door in Aaron Provincial Park.
How do I plan my itinerary?
Where to start? Coastal drives, cross-country, mountains, National Parks – the choices are endless. It might be tempting to wing it and see where you end up, but the best campsites get booked up, especially in summer, at weekends and in popular areas like the Rockies. So it's a good idea to plan your route and book your overnight stays in advance. We planned to arrive into our campsites around 4pm while it was still light. That gave us time to set up the RV, light a campfire and stretch our legs with a walk around the site. It's also recommended you don't drive at dawn or dusk as moose and deer venture out onto the roads.
When you're working out how long journeys will take, watch out that Google Maps tends to underestimate the time it takes in an RV. We downloaded a free GPS app called Navmii Canada which seemed to be a bit more accurate. It works offline if you don't have phone data and you can also get it to show your nearest fuel stations. A good old road map is useful too in case you can't get any phone signal. The quickest route is usually via the highways but if you get off the main roads there's more to see, so factor in plenty of time in case you spot something interesting – the Roadtrippers website has some good ideas. The joy of RVing is you can stop and make a cup of tea or rustle up some lunch whenever you feel like it.
What facilities do campsites have?
Campsite facilities vary a lot and will depend on the location and the size. Larger, privately run sites can have shops, cafés and swimming pools. You're also likely to get a full hookup where you can connect your power, water and sewage from your pitch. But most of the time we were in Provincial Park campgrounds which were a bit more back to nature. There was usually a reception where you'd check in and could stock up on ice and firewood. Then there were toilet and shower blocks which had laundry facilities (keep a supply of 'loonies' – aka one dollar coins, the name comes from the bird pictured on them).
The facilities might be simple but the location is what makes them so special. We parked up next to lakes, waterfalls and forests. But my favourite spot has to be at Lake Superior Provincial Park. The campsite ran along the edge of the lake with just two rows of RVs surrounded by tall pine trees. Within 10 metres of our pitch was a huge sandy beach and a lake that stretched out as far as you can see, with a bench for the perfect sunset G&T spot. You've also got wildlife all around you. We had gophers popping up around us in Regina Beach and a raccoon who'd raided next door's cool box and was chomping on a cereal bar in Killarney Provincial Park. Though you need to be careful not to leave food out in areas where there are bears around (though we never saw one despite cooking steaks on the RV hob one night).
Read more: Land of the Lakes: Exploring Ontario's Provincial Parks
Is an RV hard to drive?
I have to delegate this question to my sister as she was the designated driver for the trip, but she had no trouble. Like any large vehicle it takes longer to get going and to stop, so leave plenty of space around you. Canadian roads are generally fairly wide and outside the towns and cities it's not too difficult to navigate (we pretty much got on the Trans-Canada Highway in Calgary and got off it two weeks later in Toronto). Do make a note of the RV's width and height just in case you have to go through a small space or a low bridge. The gas tank takes a while to fill up (our record was topping it with $200 worth of fuel) and if you're going faster, like along the long straight roads of the prairies, you'll get through it a lot quicker.
When you arrive into a campsite your pitch will either be 'pull-through' where you can drive straight into it or you'll have to reverse in. RVs aren't the easiest things to reverse as your visibility is limited in the mirrors, so we found it easier for me to get out and shout out directions (seasoned RVers recommend a walkie talkie if you're going to be doing this a lot). It can be harder to find somewhere to park up if you're stopping in towns and cities. It's a good idea to research parking lots in advance. Some have extra-large spaces for RVs or be prepared to practice your parallel parking skills if you're parking on the street.
What about the dreaded waste disposal?
The one thing that seems to strike fear into a prospective RVer is emptying the toilet tank. Not something you normally have to do on holiday! But it's really not as bad as I imagined. The RV has two waste tanks – one for grey water (from the sinks and shower) and one for black water (from the toilet). Some sites have a hookup for the sewage pipe where you can leave it connected all the time. But in all of ours you had to empty the tank at the site's dumping station. A control panel inside the RV tells you how full the tanks are and you can go for a few days without emptying, but it does weigh you down and being heavier means you get through more fuel. So we went for the 'little and often' approach to dumping.
An expandable pipe pulls out from the side of the RV and connects into a valve in the ground. Then you pull the handle to release the black water first and then the grey to wash it through. There are a couple of things you can do to make it less unpleasant too. First buy some heavy duty rubber gloves (we kept ours in a plastic bag in the storage compartment beneath the RV) and second get some tank cleaner/deodoriser tablets to make things smell a bit sweeter. You can also pay a supplement not to have to empty the tank when you return the RV which is worth it if you're in a bit of a hurry on the last day like we were.
What do I need to pack?
One of the bonuses of RV travel is having plenty of space. We had a wardrobe, two sets of drawers and cupboards above the bed and table. There's also storage underneath the RV for a folding table and chairs as well as firewood and our bags. Once you've unpacked you don't need to pack up again until the end of your trip. And if you go out for the day and you realise you should've worn an extra jumper or need your coat or suncream, then it's all there with you. But if you're flying internationally you're not going to want to carry pillows, towels, saucepans and crockery with you (the kitchen sink is already included!).
Cruise Canada offer a couple of different equipment kits. We had a provisioning kit ($100) which included cutlery, crockery, pots and pans, kettle, knives and a chopping board, plus extras like a torch and a broom. Then there's a personal kit ($55 per person) with towels, a pillow and duvet. Nights can get cold though so you might want to bring or buy a blanket and pack some thermal PJs – I ended up keeping a fleece and a pair of socks next to the bed so I could add extra layers during the night if I started to get cold.
You do need to make sure you pack everything in tightly before you set off though. On our last stop in Algonquin Provincial Park you could only get to our campsite down an unsealed road. Within a couple of minutes of rattling along the wardrobe flew open, water bottles were shooting across the floor and the drawers had thrown half their contents out. Even on a normal road bumps and bends can send things flying, so make sure everything is stowed away before you set off. The crockery cupboard has dividers to keep plates and cups safe. But things slide around the food cupboard above the dining table so it's a good idea to get a box to store groceries so you don't end up with a black eye from a falling pack of biscuits.
Being outside so much does mean you're exposed to a few creepy crawlies. Canadian mosquitoes can be vicious, especially in summer, so it's a good idea to pack mozzie repellent and bite cream, and pick up some citronella candles or mosquito coils. Cover up your arms and legs at dusk and you can also get clothing that's impregnated with repellent to keep them away. Other bits and pieces that we found useful were a washing line and pegs (to air out towels and if you're doing any hand washing), a grill if you want to cook outside, matches and plenty of marshmallows for toasting over the campfire.
Where to next?
The thing with RVing is that it gets addictive. The freedom to go whenever you fancy, the convenience, the chance to dip your toes in the outdoor lifestyle without roughing it. So the only question left is where to next? Maybe the Rockies or the coast of Newfoundland – who knows where the road will take us?
Is there anything you'd like to know about RVing in Canada?
Pin it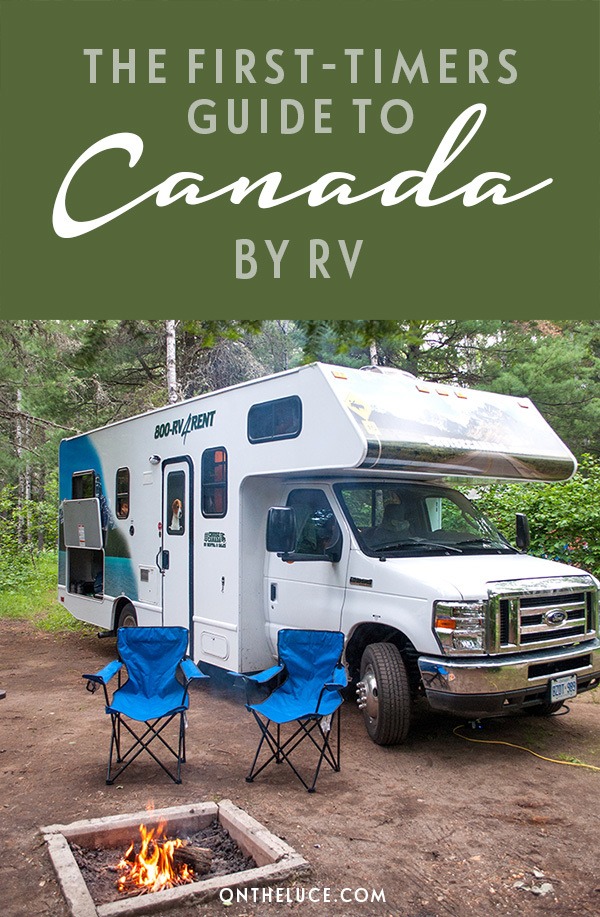 I visited Canada as a guest of Destination Canada as part of a Travelator Media campaign.