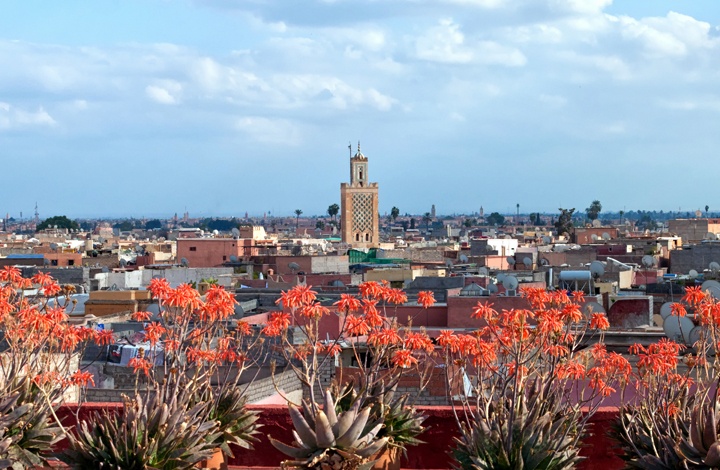 Normally I'd say my travel style is affordable luxury – I mainly keep to a budget but throw in a few luxurious touches and special experiences. But when it came to planning my honeymoon, I decided it would be only right to swap those two around for once. So this trip was a bit more luxury and a bit less budget than usual, with stunning riads, private transfers and spa treatments along the way. But as the plan is to have a few mini-honeymoons spread through the year rather than one big one, there was always one eye on the budget too. So the luxuries were paired with cheap lunches and free days of exploring. Here's how our spending broke down for a six-night, two-destination, budget-luxe Moroccan mini-honeymoon.
Read more: Surviving the souks in Marrakech
Transport
Being on honeymoon gave us an excuse to splash out a bit more on flights, so we flew out in BA Business Class. The separate check in and security lines made us feel like VIPs and we got our money's worth of free food and drink in BA's Galleries Lounge at Gatwick, as well as Champagne and a meal in-flight. The price difference wasn't too high on the flight out, but the way back was another matter, so we flew home in economy (back to reality!). The flights cost £256 per person, and we also spend 1000 MAD/£73 each way for a private taxi for the three-hour journey to Essaouira and 220 MAD/£16 for a taxi to the airport.
Total transport cost: 2220 MAD/£162 (about £13.50 a day each) plus flights, so £337 per person in total.
Accommodation
As we were planning to do a bit more lazing on this trip than usual, we wanted somewhere gorgeous to do it in – roof terrace, pool and cosy lounge included. Morocco has so many accommodation options and on my last trip I had no trouble finding riads for £50 a night, but this time we spent a bit more for something really special. First up was the fantastic Riad Dar Maya in Essaouira, where four nights cost us 5060 MAD/£370 (£92.50 a night or £46.25 per person per night). Then we spent two nights in stylish Riad Capaldi in the heart of the medina in Marrakech for 2258 MAD/£165 (£82.50 per night or £41.25 pppn).
Total accommodation cost: 7318 MAD/£535 or £267.50 per person – an average of £45 a night each.
Activities
The trip wasn't just about sitting on a sunlounger (though there was plenty of that – I should probably add all the books I bought for my Kindle into this budget), we did do a few activities too. We spend half a day learning to cook at L'Atelier Madada cookery school in Essaouira for 450 MAD/£33 per person and had an incredibly relaxing two-hour hamman and massage at Riad Dar Maya for 500 MAD/£36 per person. Everything else – wandering the medina, watching sunsets and entry to the Photography Museum in Marrakech – was free. We managed to resist the temptation to blow the budget on shopping in the souks too, but did bring home some tagine spices and argan oil products, costing 370 MAD/£28 in total.
Total activities cost: 1135 MAD/£83 per person – an average of £14 a day each.
Food and drink
Breakfast was included at both riads, and usually pretty substantial so we didn't need much for lunch. We ate lunch out on two days, ate at our cookery class on one day and had lunch at the airport before flying home (a total of 655 MAD/£48). The rest of the time we grabbed snacks while we were out, and also bought soft drinks and water, at a total of 300 MAD/£22. For dinner we had a three-course dinner one night at each riad and ate out on the other three nights. Food was reasonable, with meals at a nice restaurant costing around £40 for two including wine, coming in at a total of 2145 MAD/£157. We also went out for drinks a couple of times – including sunset cocktails on a rooftop in Marrakech – spending a total of 480 MAD/£35.
Total food cost: 3580 MAD/£262 or £131 per person – an average of £22 a day each.
The grand total
So the overall cost for our Moroccan mini-honeymoon was £819 per person, including flights. This works out as just over £136.50 a night each. A bit more than I would usually spend in a relatively cheap destination like Morocco, but even that relatively small extra cost gave the trip more of a luxury feel. And it's still a bargain when you look at the average honeymoon price of £4500 – that would get us another couple of trips!
Lower budget? You could easily save by taking budget airline flights, which you can get for around £100 return from the UK, and taking the bus between Marrakech and Essaouira for about £5. You can also save on food and drink by eating at cheaper restaurants and food stalls and staying off the wine.
Higher budget? If that's not enough luxury for you, then you could do Business Class both ways and add in more spa treatments and guided tours around the medina and out to the Atlas Mountains.
Pin it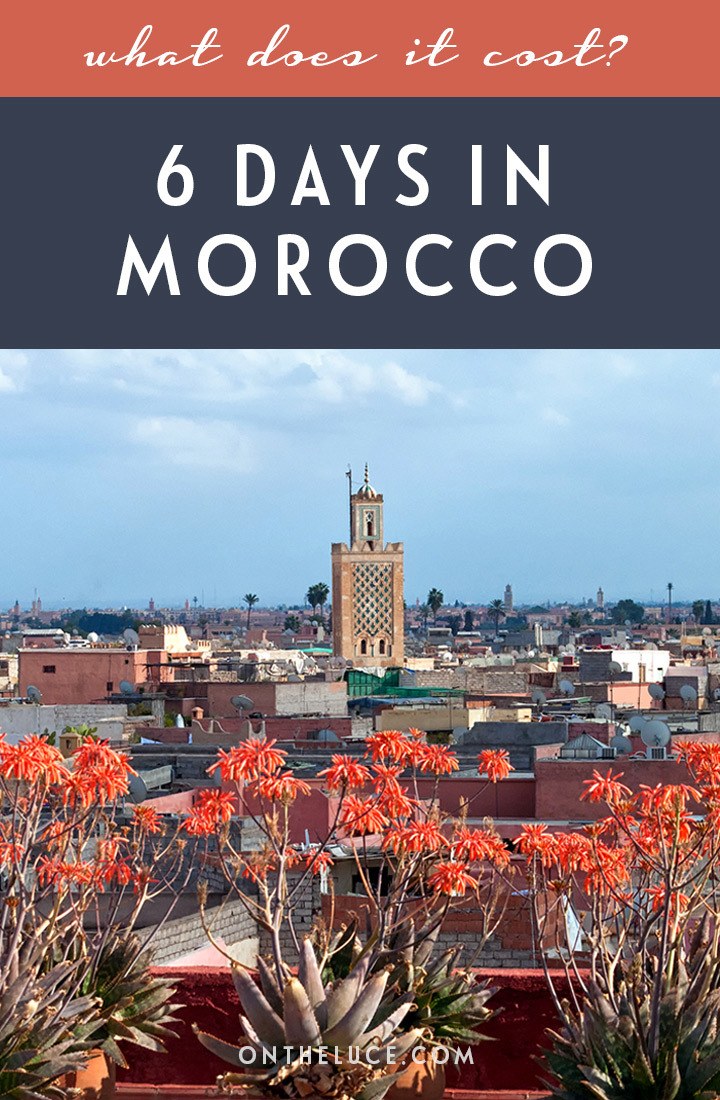 This article contains affiliate links, where I get a small commission at no extra cost to you – thanks.