Looking at a map of Canada, Vancouver Island isn't more than a dot off the coast of British Columbia. But this is Canadian scale – where everything's bigger than it looks. In reality it's the largest Pacific Island east of New Zealand, stretching 290 miles from north to south. The island has a mix of beaches and rainforests, wildlife and waterfalls, seafood and local wine – and a Vancouver Island road trip is the perfect way to discover them.
AD: My visit was hosted by Canada Keep Exploring but all views are my own.
Vancouver Island lies about 60 miles west of the city of Vancouver, and it's easy to combine a trip to the city with a few days on the island. BC Ferries run routes from Vancouver to Victoria and Nanaimo, or there are airports in Victoria and other major towns. But in this part of the world, you don't need an airport or even a runway to fly in, with seaplane services meaning you can get almost anywhere around the island by air.
We were heading to Port Hardy at the far north of the island to visit the Great Bear Rainforest. But rather than flying straight there we decided to drive from the tip to the top of the island on a 365-mile road trip. Where most Vancouver Island road trip itineraries concentrate on the south west region around Tofino, this route took us along the island's east cost, featuring a selection of the great things to do on Vancouver Island.
Vancouver Island road trip map
Our road trip from Victoria to Port Hardy covered 365 miles one way. We did it two days and one night, stopping in Campbell River for the night. But you could easily extend the trip by adding a day or two in Victoria itself, taking it slower and stopping off along the way (see the section at the end of the post for accommodation suggestions along the route).
With more time you could add in more wildlife-watching activities or walks, or if you're making it a round trip you could add on a couple of days on the west coast at the popular surf town of Tofino. We travelled by car on our Vancouver Island road trip, but it would also be good to do in an RV motorhome, with plenty of campsites on the island.
Victoria
We started our Vancouver Island road trip in Victoria. The island's capital is a charming small city with a beautiful waterfront location and European feel that's compact and easy to get around on foot. It's worth adding on a day or two in the city before hitting the road to check out some of the main sites like the Royal BC Museum and British Columbia's parliament, walk through Beacon Hill Park and have afternoon tea at the Fairmont Empress hotel.
Read more: A weekend in Victoria, British Columbia: A 48-hour itinerary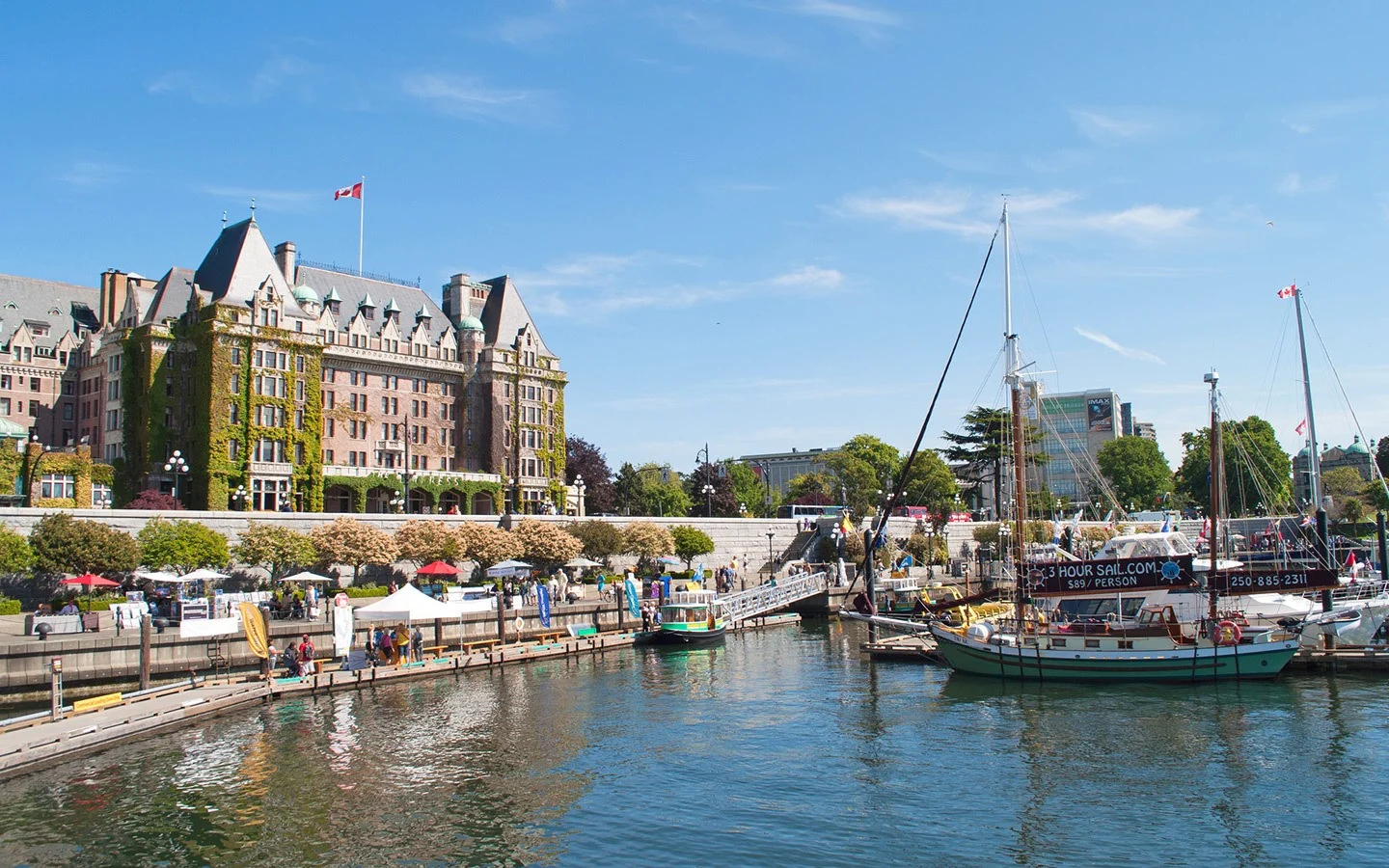 Cowichan Valley
After leaving Victoria we followed the Trans-Canada Highway north to the Cowichan Valley (34 miles/45 minutes). Canada isn't the first country you'd think of for wine (other than ice wine), but the south of Vancouver island has a growing number of wineries. The Cowichan Valley was originally a dairy farming area, but has turned to wine-making.
The region's latitude in the extremes for grape-growing, but as well as Vancouver Island having Canada's mildest climate, the Cowichan Valley is 10 degrees warmer than Victoria – its name even comes from a First Nations' word which means 'warm land'. There's also plenty of sunshine, shelter from storms thanks to nearby mountains and a low risk of frost. So if you pick the right soil and a south-facing slope then grapes will thrive.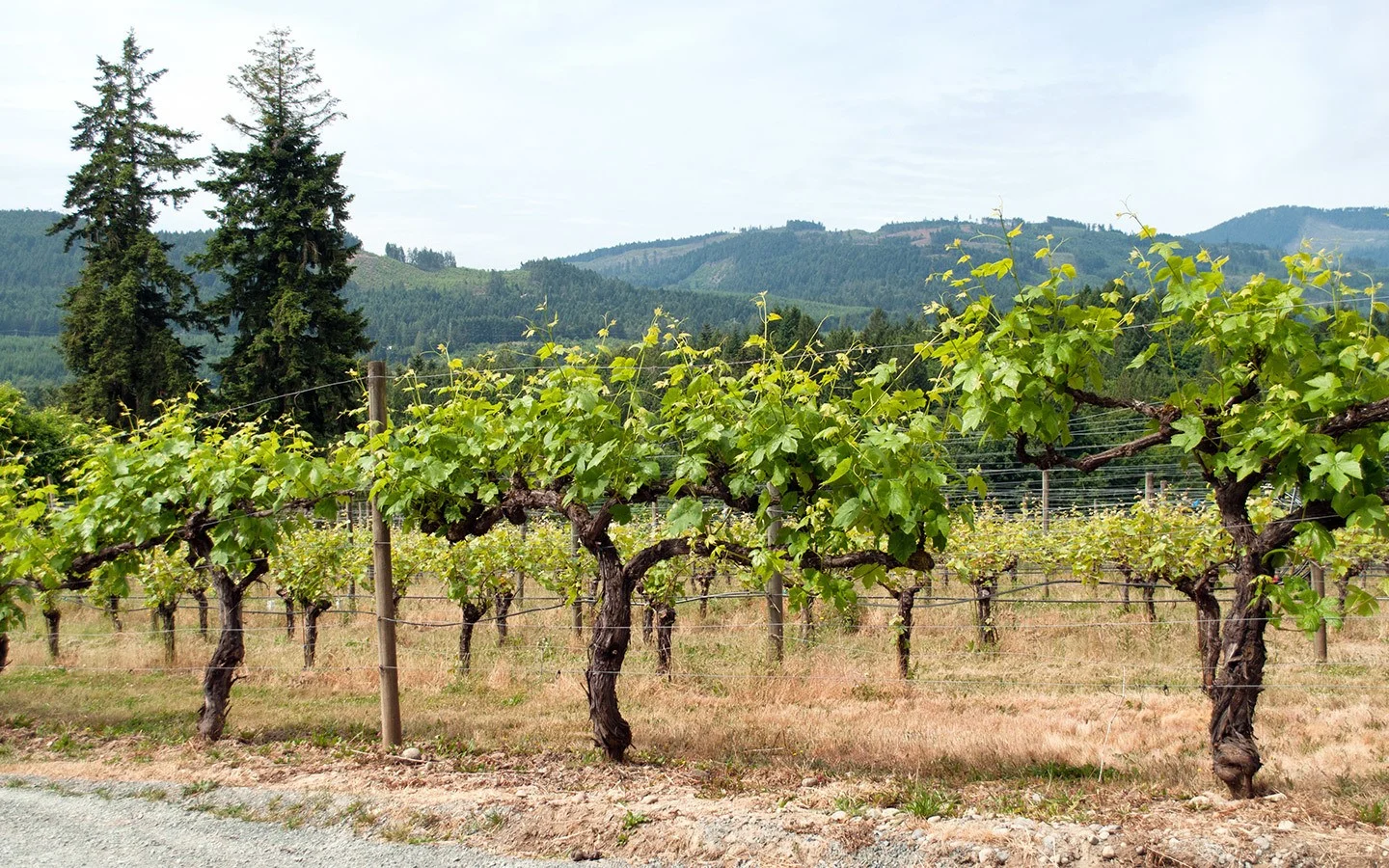 Most wine producers in the Cowichan Valley are small-scale, making only a few thousand cases of wine per year, and many offer cellar door tastings. Blue Grouse Winery was one of the first Cowichan wineries, growing grapes since the 1970s and setting up their tasting room in 1990. It's been redeveloped into a new, bright and airy building with views out over their vineyards, where winemaker Bailey Williamson gave us a tasting of some of their wines.
The Cowichan Valley's climate is best for white grapes, though we did try an unusual black muscat, a cult favourite red with flavours of lychee. Most white varieties are cross-bred grapes specially designed for cooler climates. So you don't get big names like Chardonnay and Sauvignon Blanc, but instead there are varieties like Bacchus and Ortega.
Nanaimo
With wine supplies for the trip safely stowed, we got back on the road and headed towards the city of Nanaimo (34 miles/45 minutes). It's located just across the other side of the Salish Sea from Vancouver, with a ferry connecting the two. Nanaimo's nicknamed 'Bathtub Racing Capital of the World' after an annual race where competitors use baths converted into boats to sail to Vancouver. One to check out if you're visiting on the last weekend in July!
Nanaimo's other claim to fame is the Nanaimo Bar, and you can't pass by without picking one (or two) up. These triple-layered treats don't need baking and are made up of a biscuit crumb base, buttercream layer and dark chocolate topping. The city's so proud of them they feature in the local museum and there's a whole trail dedicated to the best bars, whether you're a purist or fancy trying a cheesecake version or Nanaimo Bar Martini.
Coombs
A short drive north of Nanaimo (27 miles/35 minutes) we stopped for lunch at another quirky stop – Coombs Country Market. Not just your average shop and restaurant, it's famous for its grass-covered roof home to four resident goats. They've got a wooden house to live in and plenty of grass to munch on, which they do oblivious to the camera-toting tourists below. And you can have a (goat-free) Italian feast of pizza and pasta at Cuckoo restaurant.
MacMillan Provincial Park
Next we took a short diversion inland to MacMillan Provincial Park (12 miles/17 minutes). The park is home to one of the oldest and most impressive ancient forests in Canada. The most famous section south of the highway and is known as Cathedral Grove. Some of its Douglas Fir trees are over 800 years old and the largest has a circumference of nine metres.
You can follow walking paths through this land of giants, with loop hiking trails and raised viewing platforms which take you up among the trees. You can also go swimming in Cameron Lake or visit the waterfalls in neighbouring Little Qualicum Falls Park.
And if you've got a couple of days to spare on your Vancouver Island road trip, carry on along the Pacific Rim Highway to Tofino (88 miles/2 hours 10 minutes each way). The road has stunning views of snow-capped mountains, lakes and forests. And Tofino itself is known for wildlife-watching in Clayoquot Sound as well as for hiking, biking and surfing.
Campbell River
After rejoining the Island Highway at Qualicum, we travelled further north up the island to Campbell River (80 miles/1 hour 20 minutes), passing waterside holiday spots to one side of us and the ski resort of Mount Washington on the other. Our stop for the night was at two twin resorts which face each other across the waters of the Discovery Passage.
On the Vancouver Island side is Painter's Lodge*, a favourite spot for salmon fishing trips. I had no idea how big salmon could get (mine come filleted from the supermarket) but they have a special club for people who've caught one bigger than 30lb, known as a tyee. And if catching it isn't hard enough, you also need to do it from a traditional rowboat.
A five-minute boat ride took us to April Point Resort* on Quadra Island, one of the enticingly named Discovery Islands. It gets its name from Peruvian explorer Juan Francisco de la Bodega y Quadra who mapped the BC coastline along with another famous name, George Vancouver. The island is 22 miles long and a permanent home to 2700 people, including First Nations communities, mostly living in the south and leaving the north as unspoilt rainforest.
You can hike, cycle, kayak or take a Zodiac boat tour to spot wildlife – whales, dolphins, seals and sea lions all live in the waters of the Discovery Passage. But I'd have happily spent a week there just soaking up the scenery. It's one of those places that feels miles from modern life as we ate freshly caught salmon and watched the sun set over Campbell River.
Elk Falls
The following morning we were back on the road for the next stretch up to Port Hardy, Vancouver Island's most northernmost city. But first up was a stop at Elk Falls Provincial Park (3 miles/6 minutes away). The park is one of the most popular on the island with a path through a thick conifer forest leading you to the falls. They drop 25 metres down into a rock-walled canyon and are at their most powerful in the spring when the snow melts.
There are wooden viewing platforms as well as a 60-metre-long suspension bridge across the canyon, giving you a great (if slightly wobbly) view of the falls. It's another area known for salmon fishing, and you're visiting from August to November look out for spawning salmon in the river. Salmon lovers can also take a tour of the nearby Quinsam Hatchery.
Telegraph Cove
Leaving Campbell River behind, the road got quieter and the towns got smaller and sparser. After driving through miles of forest roads we emerged alongside Nimpkish Lake before rejoining the coast at Telegraph Cove (128 miles/2 hours 40 minutes).
This colourful village was founded in 1912 as a sawmill but fell into disrepair until the late 1970s when a local couple created a campground and marina before restoring its old wooden buildings and boardwalks. Now it's a protected area and eco-tourism hub that's a prime spot for whale-watching, and there's also a whale museum in the village.
Although it can get packed in the summer, off-season there are only 20 permanent residents. The lovely, brightly coloured fisherman's houses – which are built up on stilts and connected by a raised boardwalk – have been turned into holiday rentals, where you can go off the grid for a few days away from the modern world and its phones and TVs.
Port Hardy (and beyond)
The final stretch of our Vancouver Island road trip took us 40 miles/50 minutes to Port Hardy – the end of the line for the Island Highway. Port Hardy is home to the largest community in northern Vancouver Island, but its main attraction for visitors is as a jumping-off point for all sorts of exciting wilderness adventures.
From Port Hardy you can catch the ferry to Prince Rupert on the northwest coast of British Columbia, or travel along the Discovery Coast and through the Inside Passage to Bella Coola. You can also leave the car behind and take on a long-distance a hiking trip, including the 11-mile Cape Scott Trail and the challenging, multi-day North Coast Trail.
Or you can take to the skies on board a float plane to explore some of the region's more remote spots. We headed out into the wilderness of the Great Bear Rainforest – an area covering 12,000 square miles that stretches up to the Alaskan border, where you can watch grizzly bears from boats in spring or feeding on salmon in autumn.
Where to stay on a Vancouver Island road trip
Nanaimo
The Coast Bastion Hotel* is just across from the harbour in Nanaimo and it's an easy walk to reach bars and restaurants. Rooms start from CAD $170 a night. Or just outside the city the Living Forest RV park and campground has a peaceful location by the waterside.
Campbell River
April Point Resort* is in a gorgeous spot on peaceful Quadra Island, accessible by boat from Campbell River. It has a mix of rooms, suites and cottages, which start from CAD $189 a night, as well as a restaurant, terrace bar, spa and activities like kayaking and boat tours. Or there's a campsite which also has RV pitches at the nearby Elk Falls Provincial Park.
Telegraph Cove
Telegraph Cove Resort has a mix of lodge rooms, dockside suites and the historic wooden cottages, which sleep from two to nine people and start at CAD $145 a night in high season. There's a café and pub on site, plus a campground with full hookup for RVs.
Port Hardy
The Kwa'lilas Hotel (which means the 'Place to Sleep') is a First Nations-owned four-star hotel which features masks and artworks created by First Nations artists. Rooms from CAD $149 a night. Or try the Quatse River Regional Park and Campground for RV pitches.
Pin it
* This site contains affiliate links, where I get a small commission from purchases at no extra cost to you.