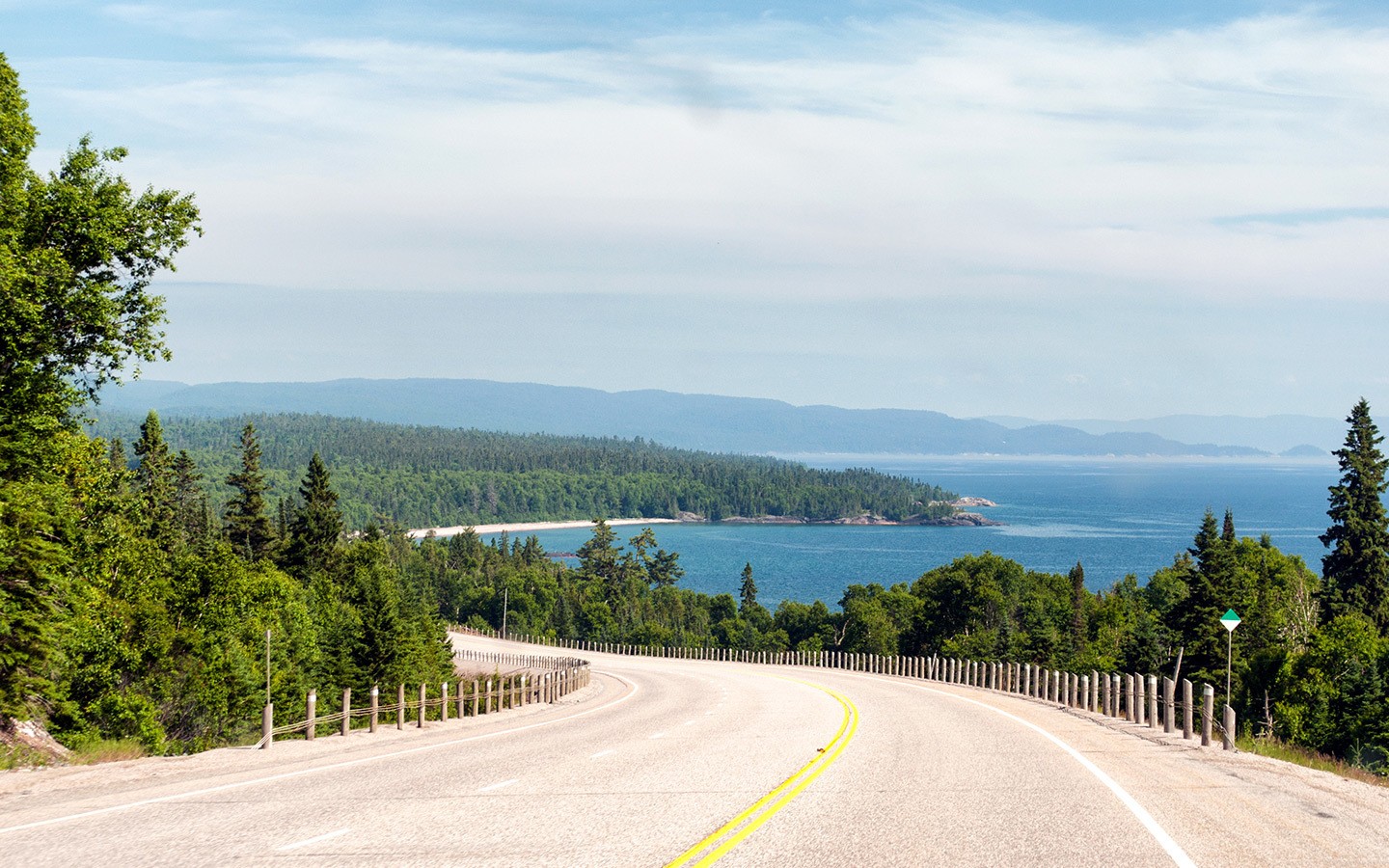 From spectacular sunsets and wildlife encounters to nights by the campfire and great food, my leg of the Explore Canada road trip – travelling from one side of the country to the other in a Cruise Canada RV – was full of memorable moments. Whether they were big adventures or little things, they all added up to make an unforgettable trip from Calgary to Toronto. And who knows, maybe my 10 trip highlights will inspire you to head out on the road in Canada too?
Read more: The heart of Canada: A two-week Calgary to Toronto road trip itinerary
1. Going underground at Moose Jaw
A 1920s haunt of Al Capone with a history of gambling, prostitution and bootlegged booze – Moose Jaw wasn't what I expected to find in the middle of the prairies. Today the town is full of cafés, colourful murals and relaxing thermal springs. But during Prohibition it was a hub for smugglers who used tunnels under the town to produce and supply alcohol across the border.
You can go back in time to the bad old days when Moose Jaw was nicknamed 'Little Chicago' at the Tunnels of Moose Jaw, who they run a couple of different interactive tours. We took on the part of wannabe bootleggers on their 'Chicago Connection' tour, led by gangster's moll Miss Fanny. We visited a speakeasy, climbed through a fireplace and were chased by through the tunnels by the police, before re-emerging back into the 21st-century.
2. Joining in Regina's Canada Day celebrations
Regina is Saskatchewan's provincial capital and home of the Mounties – and knows how to throw a good party. Our stopover in nearby Regina Beach coincided with Canada Day, so we headed into the city to join the celebrations, with thousands gathered around the lake in Wascana Park.
There was a great atmosphere on the day, with a real mix of events, from First Nations dancers to local bands and weightlifting strongmen. And some more bizarre, like the Plywood Cup where groups built boats from plywood and competed in a race across the lake – or at least tried not to sink along the way. And of course there was food – homemade lemonade, butter tarts and our first poutine (chips, cheese curds and gravy if you've not had the pleasure yet).
3. Campfire nights
Wherever we were on our journey, the evening campfire was my favourite time of day. Normally we were on the move all day, driving or exploring. So by the evenings we were ready to relax. It became a real ritual – stock up on logs from the park shop, gather kindling, take at least three attempts to get it lit, set the chairs up then immediately have to move them out of the smoke.
Then once the fire was roaring we got the snacks and drinks out and settled down for the evening. Campers are a sociable lot so we'd say hello to anyone passing by and sometimes end up chatting. At some point the hunt for a perfect marshmallow stick would begin and we'd make 'smores (melted marshmallows and chocolate in a cracker sandwich) or just toast them until gooey, staying outside until both the sugar high and the light faded.
Read more: The first-timer's guide to Canada by RV motorhome
4. A rainbow waterfall at Kakabeka Falls
Everyone knows Niagara, but Ontario's Kakabeka Falls is a bit less well-known, so I didn't know what to expect from our stopover there. We arrived at the Provincial Park and set up our pitch before heading over to the waterfall just as the sun was starting to go down.
At 40 metres high it's an impressive sight, with water thundering down into the gorge. But it was the rainbows which made it extra beautiful. There were rainbows everywhere we looked – as we crossed the bridge one hovered just over the top of the falls, then as we walked through clouds of spray along the boardwalk they were all around us, always just out of reach.
5. Sunset over Lake Superior
Lake Superior was my favourite campsite, stretching right along the shore of North America's largest lake. Just a few metres from our pitch we had miles of beach stretching in each direction and and water as far as you could see. We headed straight down to the water's edge and dipped our toes in the chilly waters of the lake before quickly retreating back up the beach.
Someone had conveniently placed a bench with this inscription: "Have a seat, enjoy this bench. Love, peace and blessings to all who pass here". You can't argue with that, so we made a gin and tonic, took a seat and watched the colours of the sky change, reflected in the lake.
6. Fish and chips on the waterfront in Killarney
Most of our road trip route kept us away from big towns and we spent almost every night in Ontario Provincial Parks. So dinner usually involved us cooking up something on the RV stove (followed by toasted marshmallows for dessert of course), and I think we did a pretty good job.
But when we arrived into Killarney and heard that the village was home to a fantastic fish and chip shop, we were happy to abandon the stove for the night. Herbert Fisheries sits right on the water in Killarney Harbour surrounded by boats. Every table was packed so we joined the queue and came away with a plate full of incredibly fresh fish and crispy chips, cooked to perfection and doused in salt and vinegar. Sometimes the best meals are the simplest.
7. Canoeing through the lily pads at Algonquin
There aren't many times when I'm ever really still – I'm usually trying to do at least two things at once. But being out on the water in Algonquin Provincial Park in Ontario was the most peaceful I've felt in a long time. As we paddled out into Costello Creek all we could hear was the splash of our paddles through the water and the hum of dragonflies. We listened to our guide tell us about the park and kept one eye open for wildlife. But mostly we just paddled along, listened to the calls of the birds, and soaked up the scenery and the sunshine.
Read more: Land of the lakes: Exploring Ontario's Provincial Parks
8. Meeting a Canadian icon
I've been lucky enough to see bears in the wild in Canada But one Canadian wildlife icon's eluded me – the moose. So I was hoping to get lucky this time around. The moose hunt hadn't been going well though, and we arrived at our final stop in Algonquin Provincial Park still not having spotted one. When we heard the park was home to 3000 moose we thought our luck was in.
That was until we realised the park covered 2946 square miles – so that's about a square mile per moose and a lot of places to hide. We'd canoed and hiked our way around the park and still nothing. But on our final drive back to our campsite something caught my eye out of the RV window and there she was. Munching away totally nonchalantly, she turned slowly to look right at us, before putting her head back down and tucking back into the lush grass.
9. Toronto rooftop views
After handing back our RV after two weeks on the road, we headed into Toronto for our final night at the Thompson Hotel. Our room wasn't ready when we checked into the hotel, so the receptionist suggested we wait in the rooftop bar. And we emerged out onto the terrace to the most amazing view of Toronto – our first proper look at the city.
In front of us was a forest of skyscrapers, with the CN Tower rising up between them. Our mosquito-bitten, smoked-infused, slightly grubby, campsite look was a bit of a contrast to the rest of the glam rooftop crowd around the pool. But a few drinks and an amazing cheese plate later we were starting to feel right at home and couldn't wait to get out and explore.
Read more: A weekend in Toronto, Ontario: A 48-hour itinerary
10. Life on the road
When your driving days vary from four to eight hours long, you have to find ways to entertain yourself. But the random moments and in-jokes became as much a part of the fun as the places we visited. Along the way we discovered a love for Reese's Pieces and Miss Vickie's crisps. We stopped to pose for photos by the sign for every state or time zone line we crossed.
I developed an obsession with town slogans – from the rather low-ambition 'Redcliffe: Greenhouse Capital of the Prairies' to the genius 'Echo Bay: Worth repeating'. Each leg of the journey had a different soundtrack – we sang our way from Regina to Manitoba to Elton John, and saw how many 80s classics we could still remember the words to on the way through Ontario. But mostly we laughed, chatted, soaked up the views – and fell in love with Canada.
Pin it
I visited Canada as a guest of Destination Canada as part of a Travelator Media campaign. This article contains affiliate links, where I get a small commission at no extra cost to you, thanks.