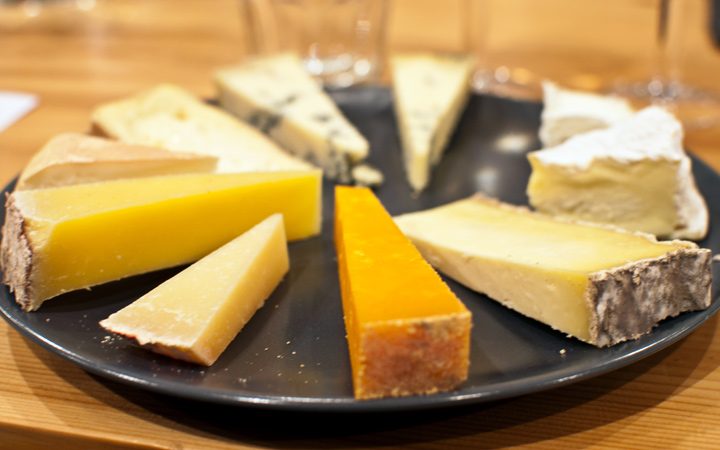 Cheese has probably got to be my favourite food. Whether its a creamy goat's cheese, a pungent Stilton, a runny Brie or a chunk of Cheddar melted on toast (with a bit of Marmite, my cheese on toast special ingredient), I love them all. And there's one name guaranteed to make a cheese-lover's mouth start watering – Neal's Yard Dairy. The company was started in the 1970s in Neal's Yard in Covent Garden. At the time the area was derelict and the rents were cheap after the food and veg market that dominated the area was moved to south London. Nicholas Saunders set up the dairy in 1979 selling their own yogurts and cheeses, as well as those from wholesalers. But not knowing much about these cheeses, it was harder to sell them, so the focus became more on selling cheese from small-scale producers and getting to know them and their produce. They now stock cheeses from 70 cheesemakers across the UK and Ireland and have expanded into a new site in Covent Garden and one next to Borough Market.
As well as selling cheese, Neal's Yard also run cheese-tasting evenings, which got me interested. There are a whole range of different themes for the tasting events, like 'Beer and Cheese', 'Mountain Cheeses' or 'England v Italy'. I went for the 'Modern Traditionals' tasting, with new interpretations of classic British cheeses – from Cheddar to Caerphilly to Stilton. The tastings give you the chance to learn about the way cheese is made, and most importantly to taste a whole load of it. Tastings are held in the warehouse above the Neal's Yard Dairy just next to Borough Market. A group of 12 of us gathered around a table headed by tutor Jane Hastings, who has been working in the cheese industry for over 10 years and knows almost everything you could ever want to know about the stuff.
We were each presented with a plate full of 10 cheeses, set out in a wheel shape, starting with goat's cheese at the top and going around to blue cheese at the end. To go with them there were plenty of accompaniments from other Borough Market producers – bread from St John, apples from Chegworth Valley farm, as well as chutneys and damson jelly, plus plenty of red and white wine. We learnt a bit about the history of Neal's Yard (it's a big test of your powers of restraint trying to listen with all that cheese sitting in front of you) before starting the tasting. For each of the cheeses, Jane told us the story behind the producers and about how the cheese is made.
We started off with the St Tola goat's cheese, then went on to the Camembert-style soft Tunworth, and then onto a Caerphilly and Red Leicester. Which brings me to my cheese fact no 1 – why is Red Leicester red? Well apparently it is dyed using Annatto, a tree seed which gives a bright orange colour. Originally cheese produced in the high peaks on the continent in the summer had a brighter yellow colour and a better flavour than the paler winter cheese. So the winter cheesemakers used Annatto to fool their customers into thinking their cheese was made in summer. Very sneaky. Then from the Red Leicester it was on to the Parmesan-style sheep's milk cheese Berkswell, a cheddar and two washed-rind cheeses. Somewhere in this section we all started to realise that even cheese-lovers have a limit on how much they can eat (apart from the guy next to me that is who valiantly stuffed his way through the whole plateful). The pace of eating slowed way down and I was left wishing I'd brought a container for the leftovers.
And finally we were at the blues. I love blue cheese so had been trying to save a bit of room for these two – a Colston Bassett Stilton and a Stichelton. Stilton has strict rules about its production. It has to be made in the counties of Derbyshire, Leicestershire or Nottinghamshire (so if you live in the village of Stilton itself you can't actually make the cheese there as it's in Cambridgeshire!) and it has to use pasturised milk. The Colston Bassett is a traditional Stilton, and the way it melted in the mouth made it my favourite cheese of the night. Whereas the Stichelton is made in the same way, but uses raw milk so can't call itself Stilton. So the producers have cleverly used the old word for the town of Stilton and called their cheese Stichelton. And with those two polished off we were done – stuffed full of cheese, wine and information and heading back out into the cold London night.
The details
There are a variety of different cheese classes at Neal's Yard Dairy – with two-hour classes costing £70 and 90 minute classes for £40. My tasting tips: go hungry, and take a box or bag to take away the leftovers as you probably won't be able to finish it all. Pace yourself and resist the temptation to stuff yourself with the first few or you won't appreciate the last ones. And finally, prepare yourself for a night of strange dreams!
Pin it