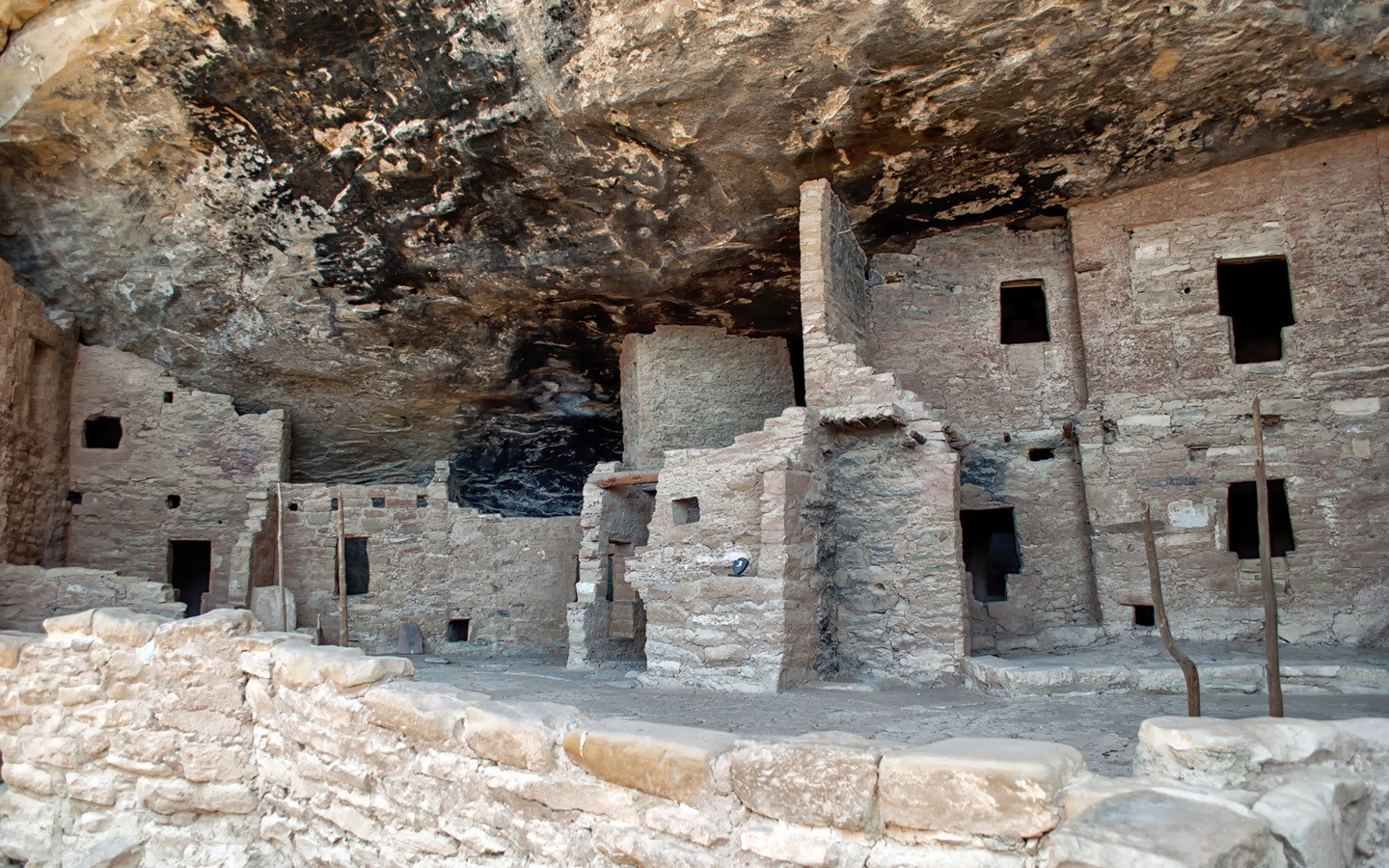 In an area of the southwest USA that's crammed with National Parks, Mesa Verde is the odd one out. Why? Because the environment that's being preserved here isn't a natural one which dates back millions of years. Instead it's a man-made landscape that only dates back less than a thousand years. Mesa Verde National Park is located on a mesa – a high 'table' or plateau of land – which was home to a group of Native American people known as the Ancestral Puebloans. They moved into the area around 600 AD and set up pit houses and farms on top of the plateau. But within a few hundred years they'd moved down into the cliffs themselves, building houses and even whole villages carved into the solid sandstone rock faces.
It's a unique place, and has been designated as a UNESCO World Heritage site as well as a National Park. The park covers 80 square miles and almost 5000 archaeological sites have been discovered so far, including 600 cliff dwellings. So with less than a day to explore, we had to pick the sights we most wanted to see.
But first we had to get up there. The Mesa Verde plateau is around 8000 feet high, so from the main highway the road winds its way upwards and upwards for 20 miles, through switchback turns and past sheer drops. Once you reach the top you get a spectacular view of four states – the park is near to the Four Corners area, where the states of Colorado, New Mexico, Utah and Arizona all come together at one spot.
The Mesa Verde site is split into sections, with the Chaplin Mesa area having the greatest concentration of archaeological sites. We took the Mesa Top Loop road first, following a six-mile driving route that takes you through some of the early Puebloan sites. The 12 sites and lookouts along the way start with primitive pit-houses then move on to more elaborate mud-brick adobe buildings. But most impressive are the cliff houses.
These were built around 1200 AD and the theory is that as the mesa got drier as the climate got warmer, the Puebloans moved further down into the canyons to be nearer the water. As the area's so high and exposed, it also helped shelter them from cold winter winds and gave protection from wildfires.
The Spruce Tree House is the third largest and best preserved cliff dwelling in the park. When we visited Mesa Verde you could take a self-guided tour of the house. But since then it's been closed off to visitors due to a rockfall at the site. You can still get a view of it from the overlooks near the Chapin Mesa Archeological Museum though, tucked beneath an overhang on the opposite side of the canyon.
Spruce Tree House was the equivalent of an Puebloan block of flats when it was built in 1210, and was home to between 60 and 80 people packed in tightly. It's hard to imagine that it was built so long ago, but the dry climate and shelter from the rocks above has preserved it from damage by the elements over the years.
When Spruce Tree House is open you can climb down inside one of the kivas. These underground chambers were where the Puebloans used to perform the religious ceremonies and political meetings that were at the centre of the community. To visit Mesa Verde's other cliff houses, you need to take a ranger guided tour, which you can book at the visitors centre. There's the Cliff Palace, which is biggest house with 150 rooms and 23 kivas and was where over 100 people lived. Or the most adventurous tour is at Balcony House, where you have to climb a 32-foot-high wooden ladder and crawl through a tunnel to get there.
The Puebloans lived in Mesa Verde until around 1300. But after building a whole civilisation there, they just upped and left one day. No one's really sure why, but it's thought that a mix of droughts, deforestation and overhunting meant there was nothing left there for them any more. The site was abandoned and lost for the next 700 years until cowboys looking for lost cattle came across some of the cliff houses.
After that word got out and explorers raided the site for Pueobloan pottery and jewellery. So in 1906 Mesa Verde was made a National Park by President Roosevelt. Now it's preserved as an amazing insight into this lost, 800-year-old world – thought the Puebloans still keep a few of their mysteries to themselves.
The details
How to get to Mesa Verde
Mesa Verde National Park is located in Colorado, around one hour east of Cortez or 90 minutes west of Durango. It's easiest to get to and explore the park if you have a car. If you don't want to drive then there's a full-day tour from Durango which includes travel, entrance fees, lunch and a guided tour of the main sites like Cliff Palace and Balcony House – check current prices.
How much is the Mesa Verde entrance fee?
Admission to Mesa Verde costs $15 per car ($20 between May and October), or it's free with an America the Beautiful National Parks Pass. Cliff Palace, Balcony House and Long House can only be visited on a ranger-guided tour. You can book these up to two days in advance at the visitor's centre (which is right by the turning off Highway 160 and easy to miss) or at the Durango Welcome Centre. Tours cost $5 per person and only run between April/May and October.
Where can you stay near Mesa Verde?
You can camp inside the park at Morefield Campground, with plenty of sites for tents and RVs (you need to reserve in advance for RV sites with full hookup) as well as a café, gas station, shower block, grocery and gift shops. There's also a Mesa Verde hotel called the Far View Lodge 15 miles inside the park. It's designed in Western style, with a restaurant and balconies looking over the park. Also recommended outside the park are vintage-style Retro Inn at Mesa Verde in Cortez as well as the gorgeous O Bar O luxury cabins out in the forest near to Durango.
Pin it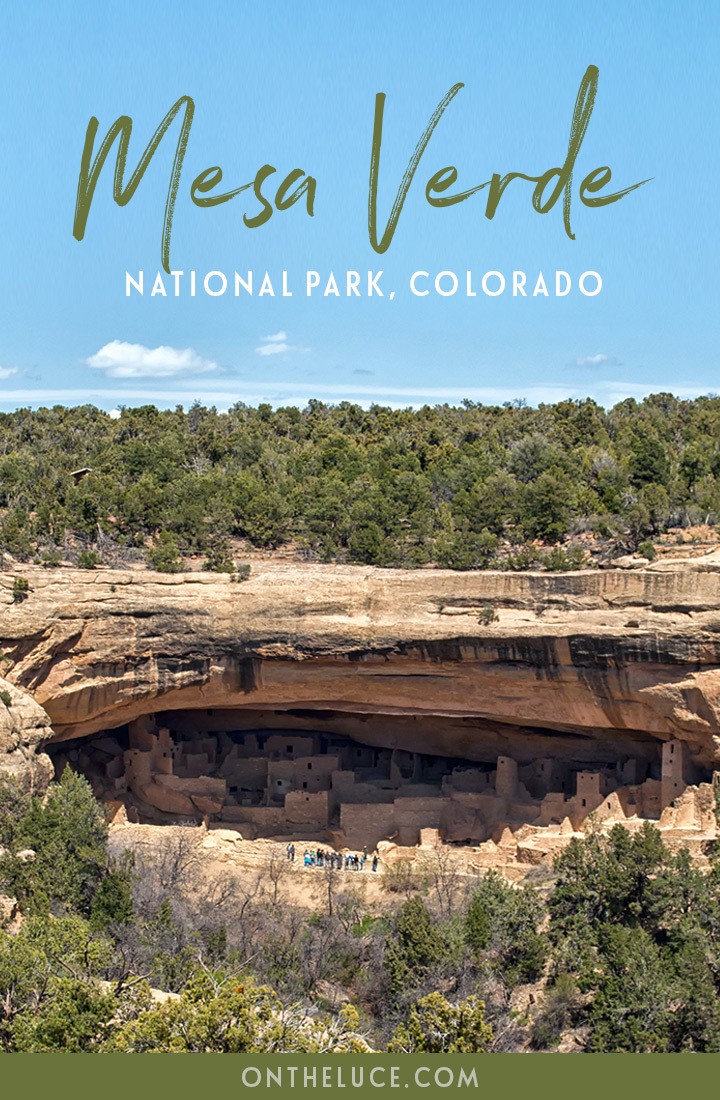 This article contains affiliate links, where I get a small commission at no extra cost to you – thanks.