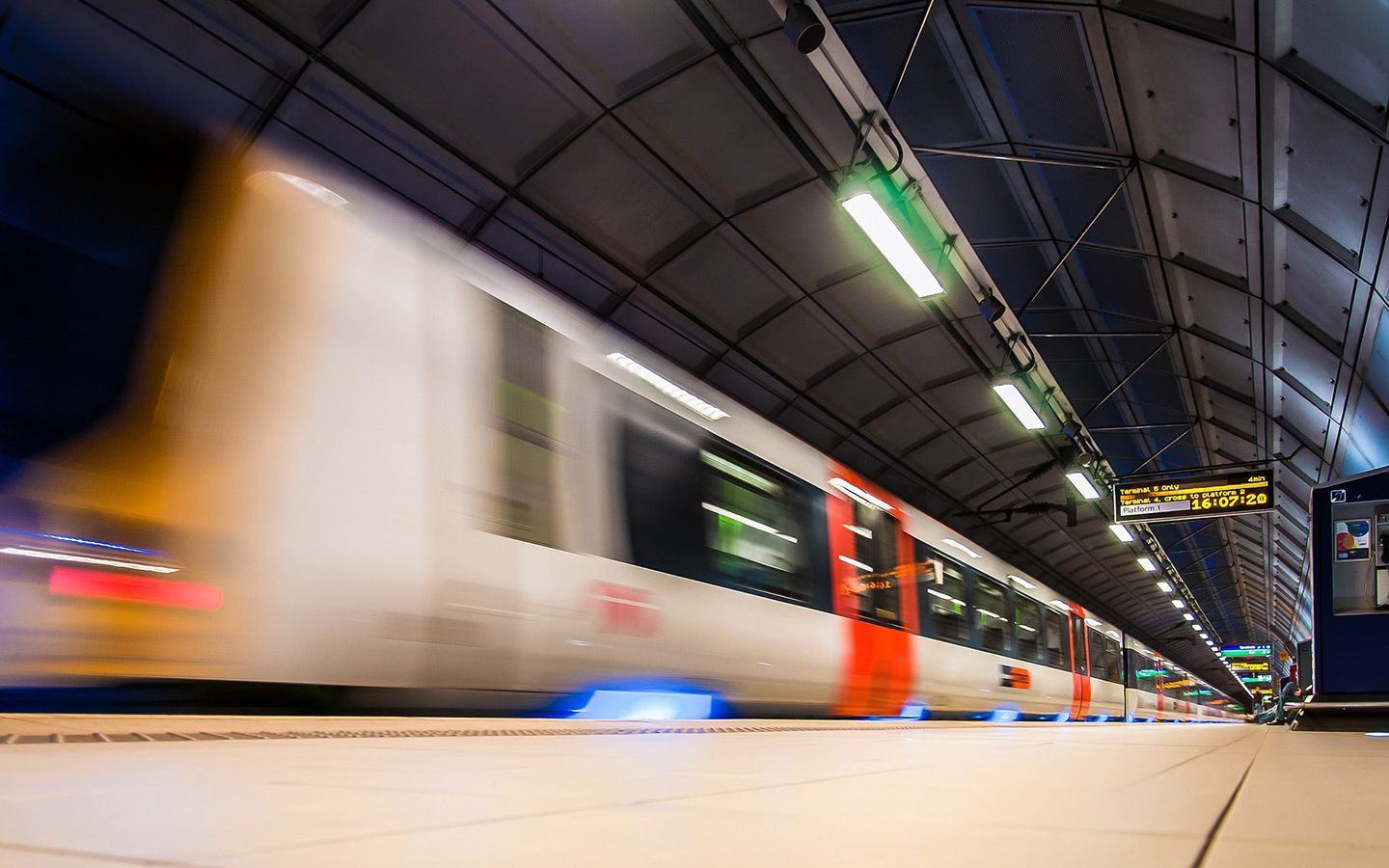 Taking the train is one of the most relaxing ways to travel, and the UK has some spectacular train routes – travelling over historic viaducts in the Scottish Highlands, weaving through the cliffs on the Cornish coast, crossing the wild Yorkshire Moors. And if you steer clear of packed peak-time city services, they're easier and more comfortable than travelling by car. But a lot of travellers get put off travelling by train in the UK as they think it's too expensive and complicated. And although I can't do anything about the baffling array of fares and train companies, after years of taking the train in Britain I've picked up plenty of tips on how to travel by rail without paying a fortune. So here are my top tips for train travel in the UK on a budget.
Read more: Britain by train: Five great one-week UK rail trip routes
Choose the cheapest ticket
The fare category system in the UK looks complicated, but when you break it down there are four main types of ticket. Most expensive and most flexible are the Anytime tickets. These let you travel on any train, are a fixed price and can be bought right up to when the train departs. The cheaper option is an Advance ticket, where you have to book in advance and travel on a specific train. Then there are the Off-Peak and Super Off-Peak tickets – these are a type of advance ticket which are available outside peak times.
Avoid peak times
Train ticket prices vary throughout the day, but the most expensive times are normally when commuters are travelling to and from work. To complicate things, these peak time periods vary slightly for each train company and each route – you can find out what they are here. But in general avoid travelling between 6.30am–9.30am and 3.30pm–6.30pm if you can to keep costs down. This chart from GoEuro shows how much of a difference even a small change to your travel time can make to the cost of your tickets.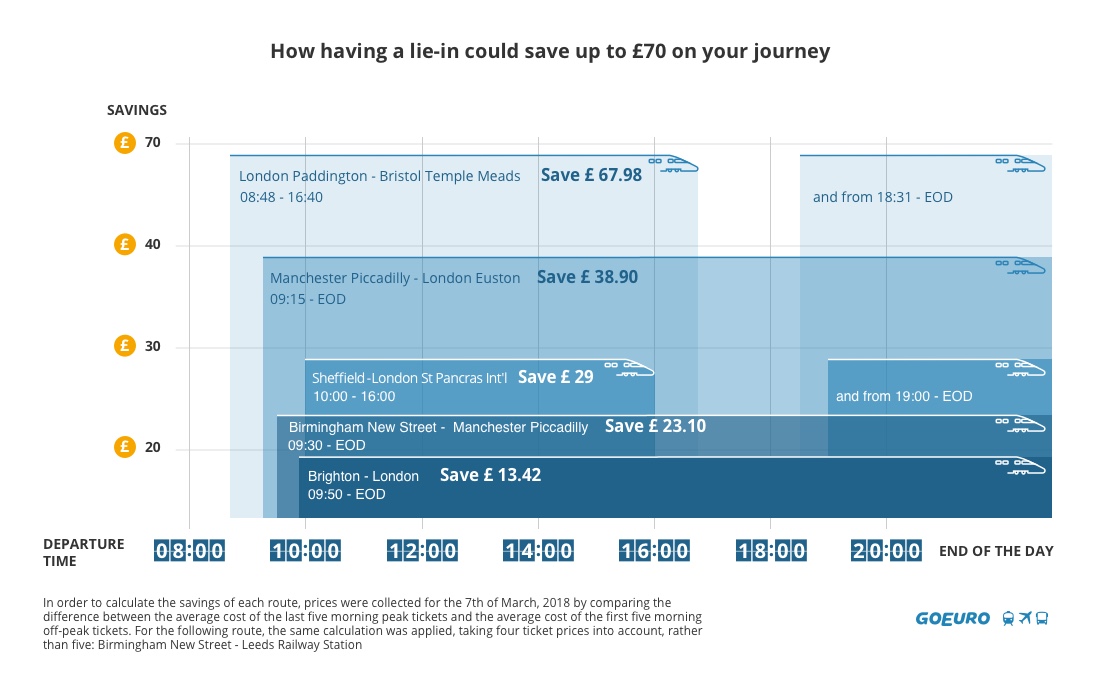 Book early…
There are a limited amount of advance tickets available at various different prices and the cheapest sell out first. So booking early is the best way to bag a bargain. Train tickets go on sale around 12 weeks in advance of travel and this is usually when the cheapest tickets are available. If you're keen to get in there fast and want to find out the first day tickets for a certain date go on sale, then there's a chart on the National Rail website which shows you the furthest dates you can book up to for each of the train companies.
You can buy advance tickets online using a credit or debit card and collect them at the station. There are lots of different booking sites, but many charge a fee (e.g. The Trainline and Red Spotted Hanky). You can avoid fees by booking directly with one of the train operators (e.g Great Western Railway or Virgin). Each train company doesn't just sell tickets on its own routes so you can book for any journey in the UK.
You can also try the Megatrain – they do heavily discounted tickets on major routes at off-peak times. Tickets are released three months in advance and if you get in there quickly you can sometimes find fares as low as £1. And if you're travelling on from the UK on into Europe, GoEuro lets you compare and book train fares, with details of the cheapest way to get from the UK to any destination in 12 European countries.
… or at least the night before
But if you can't book far in advance, it's still worth booking tickets the night before rather than waiting until you get to the station on the day. There are often advance tickets still available that are cheaper than those on the day, even at busy times – for example a single journey from London to Bristol at 6.30pm this week was £88 if you booked the night before, compared to £106 on the day. Most train companies let you book advance tickets up to 6pm the night before you travel, but some let you do right up until 11.59pm.
Buy single tickets instead of returns
You'd think that a return ticket would be the same price or cheaper than two singles, but that would make far too much sense! A lot of the cheapest tickets are only available for one-way fares. So where a normal off-peak return ticket from Birmingham to Manchester costs £38.40, you can get single fares for £11.80 each way. You are limited to specific trains when you buy single fares though, so if you want a bit more flexibility then you may be better off with an open return as that gives you a choice of trains.
Split your ticket
In another strange quirk of the UK train system, sometimes it's cheaper to buy two separate tickets for different sections of the same journey – and you don't even need to change trains. It works best for longer journeys and more expensive tickets, like where you have to travel at peak times or at short notice.
So for example if you were going from Bristol to Durham on a weekday morning it would cost you £162.70. But by buying separate tickets from Bristol to Derby (£74.80) and then from Derby to Durham (£29) you could save £59, and you can sometimes stay in the same seat. There's an online tool call Split Ticketing that helps you work out the best place to split your journey and shows you whether it'll save you money.
Get a railcard
If you're doing lots of train travel in the UK, it's worth investing in a railcard which save you a third off fares. There are four different types of railcard available. There's the 16–25 Railcard for under 26s and full-time students or the Senior Railcard for over 60s. There are also a couple of railcards for groups travelling together. The Two Together Railcard covers two named adults (who must be travelling together). Or the Family & Friends Railcard covers up to four adults with up to four children (aged 5–15).
Each card costs £30 and is valid for a year. Both UK and overseas travellers are eligible and you can use them on most journeys, though there are restrictions before 9.30am. You can buy railcards online or at the station. For the 16–25 and Two Together railcards you'll need to supply or upload a passport-sized photo.
You also need to bring your passport if you're applying for a Senior or 16–25 Railcard (or proof of student status for mature students). When you book tickets online you just need to select the railcard fare. But you do need to carry the card with you when you travel for the discounted tickets to be valid.
Book tickets through from the airport
If you're flying into London and travelling on to other parts of the UK, then it might work out cheaper to buy a train ticket all the way through rather than just into London. Yes it might sound strange but often these tickets includes the pricey Heathrow or Gatwick Express services for less than they would cost on their own.
For example, I got a train ticket all the way from Gatwick Airport to Cheltenham for £19.50 – including the Gatwick Express (£17.80 online), the Tube across London (£2.90) and the two-hour train to Cheltenham (£16.50), saving almost £18. It doesn't work for all airport routes but is worth checking out.
Sleep on the train
For a different rail travel experience – and a saving on accommodation – why not try a sleeper train. The UK's not big enough to have many overnight train routes (you'd be arriving as soon as you'd got your PJs on) but it does have two. The Caledonian Sleeper runs on two routes between London and Scotland – the Highland route going to Dundee, Aberdeen, Inverness and Fort William, and the Lowland route to Glasgow and Edinburgh. You can book tickets up to a year ahead and if you book early and avoid travelling at weekends you can get a bed in a two-person cabin for £75 one way (with railcard discounts available).
The other UK overnight route is the Night Riviera Sleeper which runs between London and Penzance in the far south of Cornwall. You can book tickets up to 12 weeks in advance on the Great Western Railway website. You just book a normal seat and then can add on an extra fee for a cabin. It costs an additional £80 for a single cabin or £110 for a two-person cabin – with discounts for railcard holders.
Consider a rail pass
If you're visiting the UK from overseas and are planning on doing a lot of rail travel, then there are BritRail passes available with unlimited train travel. There's an overall pass for the whole of Great Britain, or regional passes for England, Scotland and certain regions (e.g. South West England or the Scottish Highlands).
You can choose from 3–30 consecutive days or a certain amount of travel days spread out over a month. Prices start from £145 for three consecutive days or £183 for three days within a month, with one child aged 5–15 going free per adult. It's not cheap so it's probably best for people who want to be spontaneous and not plan ahead, as otherwise you could save by booking tickets in advance.
The BritRail pass isn't available to UK residents and has to be purchased outside the country. But one regional pass which is available to everyone is the Spirit of Scotland pass. This covers off-peak train travel everywhere north of Carlisle and Berwick-on-Tweed plus ferry travel to the west coast and isles. Four days travel within 8 days costs £139 or 8 days within 15 costs £179, with discounts for railcard holders.
Pin it
The post is brought to you in association with GoEuro and contains affiliate links, where I get a small commission at no extra cost to you – thanks.