A look back at the highlights and lowlights of 2022 On the Luce with the annual travel and blogging review, including Italian islands, Scottish train trips, Malta, the South of France and more.
* This site contains affiliate links, where I get a small commission from purchases at no extra cost to you.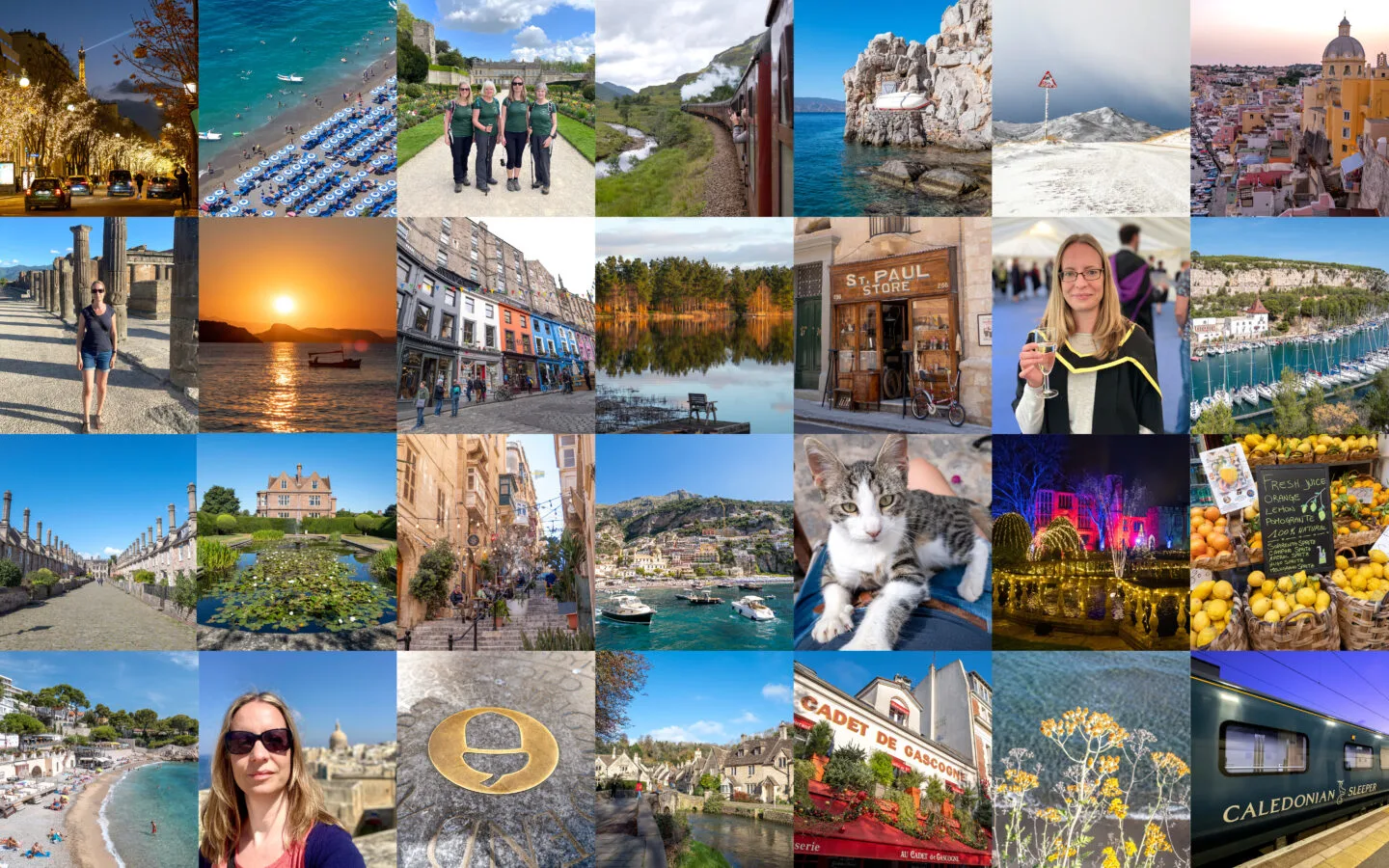 As we move into a new year and before starting planning for 2023, I'm taking a whistlestop tour back through 2022 on the blog and on the road. I've been writing these annual review posts since way back in 2011 when I started the blog, and they're a bit of a travel diary, taking me back to the adventures, people and places from years gone by.
And after three drama-filled years, it feels so good to say that 2022 felt like a return to 'normal' (or at least as close as we're likely to get to that). While the pandemic isn't exactly over, 2022 was the year that most travel restrictions were removed and people started to get back out into the world. So what did 2022 hold for this travel blogger?
2022 on the blog
After the travel – and travel blogging – industry took a bit of a battering over the last two years, travel was definitely back this summer, with a lot of people looking to make up for lost time. And in contrast to last year when people were mostly looking at UK travel posts, Europe was booming this year, especially content on Italy, Greece and Spain.
Thanks to that, the blog has bounced back to pre-pandemic traffic levels and more, having its highest number of page views and visitors. So huge thanks to everyone for reading. And my local site Explore the Cotswolds had an even more epic year with traffic increasing by 350% on last year (when admittedly it was pretty new, but still it sounds good!).
Behind the scenes I've been updating lots of the old content on the site (with the oldest posts dating back 11 years, some of it was seriously overdue a revamp) to make sure it's all up-to-date and accurate. Though with 160 posts still to go through this is a task that I'm going to be carrying on well into 2023, and possibly even beyond.
But the year's big news was that I got to tick off a huge travel ambition and become a Lonely Planet author, writing the southeast England chapter of their new Experience Great Britain* guidebook. I've been using Lonely Planet books since I started travelling over 25 year ago so it was a real dream to get to work with them and see my name in print.
2022 on the road
2022 took me to four countries (Malta, Italy, Greece and two trips to France), with a definite theme of returning to countries – and sometimes even destinations – I've loved in the past. There's something comforting about going back to an old favourite, and the fact that mine involve sunshine, beautiful scenery and great food and drink helps.
Over the year I took eight flights (a few more than I'd like and I'll be working to keep that down to as few as possible in 2023), nine ferries, one overnight train, two Eurostars and a lot of train journeys around the UK. So what were the best bits? Here are my monthly travel highlights (along with a couple of lowlights) from 2022 On the Luce.
January
The year started with a trip to the lovely Log House Holidays – lakeside log cabins in the Cotswolds which look like they could be in Canada. It was my fourth trip there and was originally planned for June 2020, but was delayed multiple times due to Covid. The upside was that the rescheduled date coincided with my partner's birthday so we celebrated with country walks, Champagne in the hot tub and marshmallows on the fire.
February
February took me back to Scotland, with a few wintery days exploring the area around Loch Ness in the Highlands. I took my friend Jill along and we tasted whisky at Glen Ord Distillery, visited the ruins of Beauly Priory and Urquhart Castle, tried out e-biking and hiked through snowdrifts at the Suidhe viewpoint – but didn't manage to spot the monster.
March
In March I headed back to Malta for a dose of much-needed sun. I'd already visited a few years ago so didn't have a huge list of things I wanted to do, it was more about exploring the backstreets of Valletta, taking a couple of day trips around the island, relaxing in the sunshine and watching the crazy (and extremely noisy) election celebrations.
April
The Cotswold Way is a 102-mile walking route between Chipping Campden and Bath. And my mum, aunt and cousin started walking it back in 2020 as a pandemic project. It got a got a bit sidelined when the world started to open up again last year and things got busy, but we finally finished the last two stretches in April, ending in front of Bath Abbey.
The Cotswold Way was just the start of my Cotswolds exploration this year. Having the local blog has been a great excuse to get out and see what's on my doorstep – in April I spent a few days in Bourton-on-the-Water to research local walks (and pubs). And we also celebrated my sister's belated hen weekend with a few days in Glastonbury and Wells.
May
In pre-Covid times I spent a huge amount of time in Edinburgh, but haven't been back to the city since 2019. So in May I took a group of friends up for a week to check out some favourite spots like Calton Hill, the Museum of Scotland, Dean Village and Stockbridge.
We also tried out new things with dinner at the glamourously Gothic Witchery by the Castle and a day trip to Stirling Castle. The one downside of the trip was coming home with Covid after managing to avoid it for two years – but luckily no-one was too badly affected.
June & July
My biggest trip of the year was a two week island-hopping adventure around Southern Italy. We started in Naples and took the ferry Procida, a tiny island with colourful fishing harbours and black sand beaches. Then it was on to neighbouring Ischia, a bigger, mountainous island known for its thermal spas and the island Castello Aragonese.
Finally we headed back to one of my old favourites, Sorrento, where we based ourselves for a few days and headed out on day trips to Pompeii and the Amalfi Coast. The trip reinforced how much I love Italy – and its food and drink. Though my top tip would be to avoid visiting the Amalfi Coast in July if you don't like crowds and sweltering heat!
August
Back in 2018/2019 I did a Master's in sustainable tourism at the University of Glasgow, but Covid meant we never got a graduation ceremony. So this August I finally got to wear a gown and collect my certificate in the university's grand Bute Hall (which was a bit strange as I studied on their Dumfries campus and had only been there once before!).
I also used it as an excuse to travel to Scotland in style in one of the en-suite double bedrooms on board the Caledonian Sleeper overnight train. We stuck with the train theme for a trip on the Jacobite steam train (aka the Hogwarts Express) from Fort William to Mallaig, and spent a couple of days exploring the area around Fort William.
September
September was my busiest travel month in a few years, starting with a train trip down to the South of France for a few days in Cassis with my mum, dad and sister. We hiked through the neighbouring Calenques National Park, swam in the sea, learnt how to make Provençal soap and spent evenings watching the boats in the harbour from our balcony.
Then a few days later I headed back to Hydra in Greece. I fell in love with this car-free island last year and it was so lovely to be back, revisiting some of our favourite restaurants, bars and beaches, and discovering a few new places (and befriending lots of new cats).
October & November
The rest of autumn was all about the local travels. I did another Cotswold research trip to the pretty town of Chipping Campden to test out some walks (one of which we had to abandon after it started sleeting – got to love the UK in autumn!). There was also the annual Literature Festival in my hometown Cheltenham and day trips out to Castle Combe and Broadway in the Cotswolds to see the peak autumn colours.
December
My last trip of the year was to another old favourite – Paris. This is another place I used to visit a lot but haven't been back to since the pandemic. So I revisited old haunts in St Germain and Montmartre and went all out on the festive theme with sparkling lights, Christmas markets and (sometimes bizarre and always over-the-top) window displays.
And so to 2023?
One side effect of the pandemic seems to be that I've finally embraced being more spontaneous and not booking things too far ahead. The only thing I have confirmed for 2023 so far is a trip to Mallorca in March to celebrate a big travel anniversary.
In 2003, my friend Nicki and I set off on an epic 18-month round-the-world adventure, visiting India, Southeast Asia and Australia. Over the last 20 years (where did that go?) we've been through houses, jobs, babies, marriages, divorce and more but are still friends. And the anniversary is the perfect excuse to celebrate with another trip together.
There will also be lots of visits to Edinburgh this spring as I'm working on a big new work project (more on that to come). And as ever I'm drawn back to visiting Italy and Greece, with Sicily and the car-free Greek island of Kastellorizo topping the wishlist.
But the last new country I visited was Finland at the start of 2019, so maybe it's time for somewhere new? Either way I look forward to sharing lots more travels with you all – thanks to everyone for following in 2022 and here's to a fantastic 2023!